Great taste meets convenience.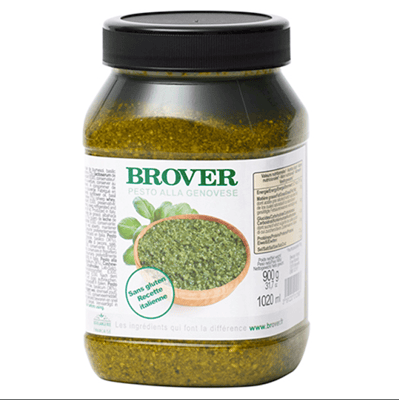 Using basil that picked at the height of freshness, Brover Pesto Genovese gives you all the great flavors you want, but keeps your kitchen moving at the speed you expect.
Try adding this sandwich to your next menu...
● Baby Arugula or Spinach
1.In a small bowl, stir together 1/4 cup
pesto and mayonnaise. Spread mixture
on both sides of ciabatta; set aside.
2. Spread the Pesto/Mayonnaise mixture on the inside of both bread halves. Place cheese on both halves of
bread. Add arugula, tomato,
basil leaves, and chicken to bottom
piece. Top with top half of bread.
3. Place
onto your panini press or grill pan and place a heavy pan
on top of the sandwich. Grill for 3 minutes
per side or until cheese starts to melt.