Four New Cakes Added; Updates to Standards, Too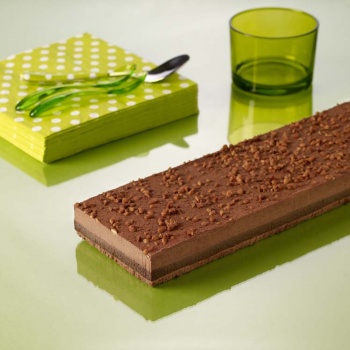 Chocolate Hazelnut Feuillantine joins the menu.
Paris Gourmet happily introduces some new additions and updates to our popular Bon Patissier frozen cake line. These popular cake strips allow the most versatility of portioning and application. From small squares for petit fours to wedges or rectangles for individual desserts, the chef controls the look and portion size. These cakes are ready whenever the banquet count suddenly rises or a party is added at the last minute. For easiest handling, portion and plate while still somewhat frozen. But be sure to serve at room temperature so your guests enjoy the most flavor.
The New Additions
Chocolate Hazelnut Feuillantine- pictured above-
Biscuit topped with a crunchy hazelnut chocolate biscuit and topped with a chocolate mousse. Finished with caramelized hazelnut pieces and chocolate velvet.

Strawberry Raspberry Mousse Cake- Biscuit soaked with kirschwasser syrup topped with a strawberry-raspberry mousse. Strawberry and black currant glaze decor.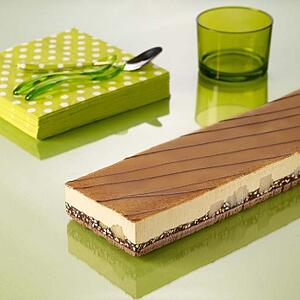 Pear Caramel Mousse Cake- Chocolate biscuit, chocolate hazelnut crunch layer, and caramel mousse with diced poached pears. Decorated with chocolate lines and apricot-caramel glaze.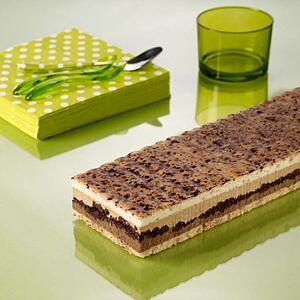 Crunchy Coffee Mousse Cake- Almond chocolate biscuit topped with crunchy white chocolate biscuit, a coffee mousse. Finished with an apricot icing.
The Updates