Mustapha's Organic Argan Oil is extracted from the seeds found inside the fruit of the Argan tree, which is an ancient tree native to Morocco that grows between the base of the Atlas Mountains and the Atlantic Ocean. Argan fruit resembles a large olive, with a thick green skin. The skin is dried and removed to reveal the Argan nut, which is stone-crushed to access the seeds found inside. These seeds are toasted and then crushed and pressed to make Argan oil. The precious oil extracted during this process has rich, buttery, toasty nut aromas that accurately hint at the oil's unique flavor profile: nutty, toasty, with an amazingly light mouth feel.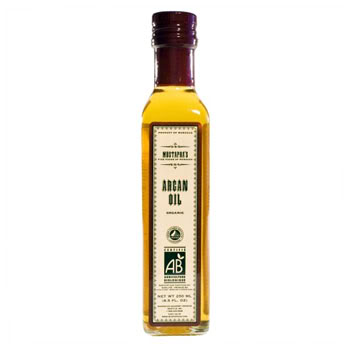 Argan oil is excellent for bringing light, nutty flavor to many foods. It can be used similarly to olive oil, and brings unique flavor to vinaigrettes, couscous, simple vegetables, soups, grilled meat, and seafood. Also try it drizzled over ice cream for a light but decadent dessert.
Also check out Austria's Finest Styrian Pumpkinseed Oil.