I spoke with Jean Francois Devineau, chef technician for Ravifruit, about his best tips and suggestions for working with IQF (individually quick frozen) fruits.
An integral ingredient in every kitchen, fruits are a great way to add color, variety, texture, and, of course, flavor to so many applications. Ravifruit's excellent selection of IQF fruits are a superb way to take advantage of the harvest, year-round.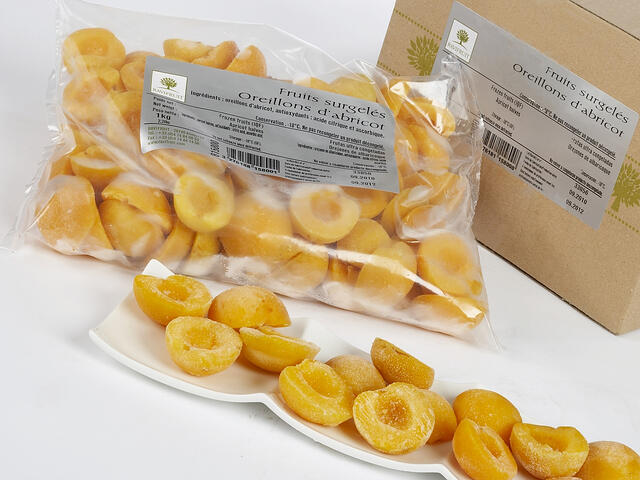 1) Think of IQF Fruits as Fresh Fruits...Only Better
You can use IQF fruit pretty much anywhere you'd use fresh fruit: atop tarts, featured in plated desserts, blended into coulis and sauces, as a garnish, or cooked into jams and preserves.
Conversely, don't use IQF fruits where you wouldn't use fresh fruit. For example, if included in ice cream cake, the frozen water in the fruit would make for some unpleasant, icy bits and "disrupt" the eating experience. In many ways, IQF fruits are actually better than fresh. Ravifruit only uses fruit at their peak of ripeness and seasonality for their products, so they are consistently of the highest quality. There's also no waste or prep involved--just use what you need right out of the freezer, no thawing required, and you don't have to spend any time peeling or pitting.
2) Proper Storage
It couldn't be easier: Take what only you need, then wrap up the rest air-tight and pop the package back in the freezer. Because these are truly individually quick frozen, you can utilize exactly the number or quantity that you want for each preparation.
3) Gorgeous Garnishes
Improving upon nature's design is tough, so fruits are always a great choice for garnishes. The IQF process ensures that the fruits stay intact, without losing shape or bruising. Simply pluck whichever fruit you like from the freezer and brush on a neutral, clear glaze for simple, stunning garnishes.
4) Ideal Apricots
Ravifruit only uses French Bergeron apricots, a particular varietal grown in France right where Ravifruit headquarters are located. Juicy, tasty, and colorful, these apricots are one of Jean Francois's favorite products in the Ravifruit line. Use them straight from the freezer, or place them on a baking sheet, skin side down. Sprinkle generously with "cassonade" (Sugar in the Raw), then bake at 320 degrees F for 20 minutes. Let them cool, then refrigerate until needed (they'll keep for several days like this). This protects the fruit from oxidation.
5) Unrivaled Rhubarb
Rhubarb has become so popular in the U.S., and chefs love how its tartness plays against sugar in sweet dishes like crisps, compotes, and pies. When using IQF rhubarb, Jean Francois prefers to remove it from the freezer, then sprinkle it with sugar and let it defrost in the refrigerator overnight covered with plastic wrap. This takes away some of the bitterness and sourness of the fruit without stripping it entirely of its characteristic tangy nature. Rhubarb makes marvelous compote and pairs perfectly with strawberries.
6) Perfect Plums
Plums are so beloved that the Ravifruit line of IQF fruits includes two very different varieties: Quetsche and Mirabelle. Quetsche plums are large, oval, purple fruits with a bit of sourness and great flavor. Mirabelle plums are sweeter, smaller, round and yellow--they are less common and only grown in the Northeast of France. Great for tarts!! Quetsche plums can be prepared using the same methods described for apricots above.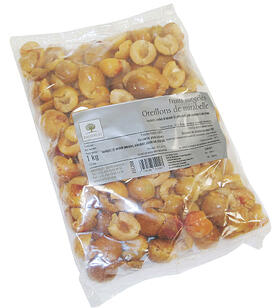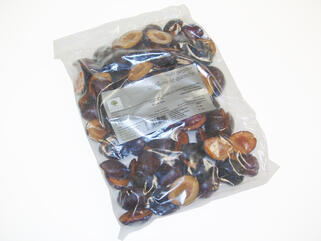 MIRABELLE QUETSCHE
7) Be Creative
Instead of a typical smooth coulis, introduce some texture by stirring in some diced IQF fruits. Use IQF morello cherries for a twist on the classic Black Forest Cake: make a miniature version in a verrine by layering chocolate cake, cherry coulis, whipped cream and whole cherries. Always add the morello cherries while still frozen for best results. Create refreshing cold fruit soups and add texture and flavor to salads and dressings.
8) Or Stay Traditional
The modern technology used in the IQF freezing process marries very well with traditional, old-school applications. These fruits are the perfect choice for classics like tart tatin, gateau basque, clafouti, and open-face tarts. Red currants are often used as a cake filling, or glazed when frozen and used as a decoration. Red currant jam can be marvelous but requires a significant amount of sugar. Summer fruit mix is often tossed in neutral glaze while still frozen and used to decorate tarts and cakes.
Everyone loves homemade jams, and IQF fruits are the most convenient starting point. Use one part IQF fruit to one part fruit puree, add 40-50% sugar, mix, and allow to sit overnight. Bring to a boil, preferably in a copper pot. Remove from heat, and chill to 4ºC/ 38ºF. Refrigerate for 24 hours, and repeat the cooking and cooling process again. This process allows the greatest marriage of fruit flavors, and the best pectin development for a rich texture.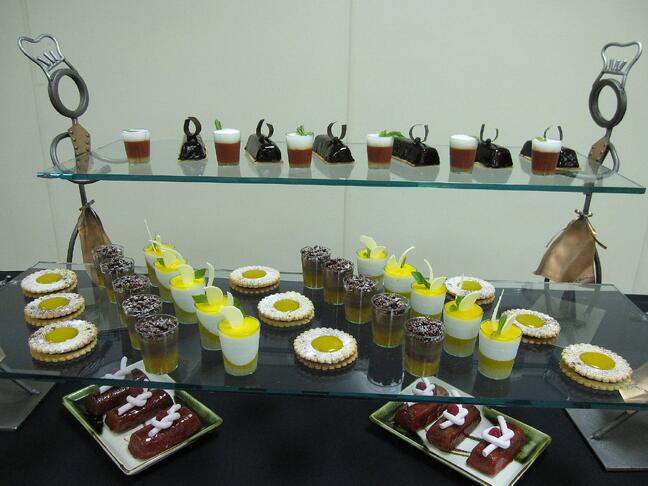 9) Take Advantage of the Selection Any Time of Year
You no longer have to wait for cherry season or use sub-par apricots in the winter with the consistent high-quality that the IQF process offers. The true integrity of the fruit, picked and immediately flash-frozen when it's at its absolute best, is a wonderful opportunity for chefs to have access to these wonderful, natural ingredients year-round.