Caviar spherification, developed and popularized by chef Ferran Adria, is the process in which liquid ingredients are shaped into spheres resembling caviar.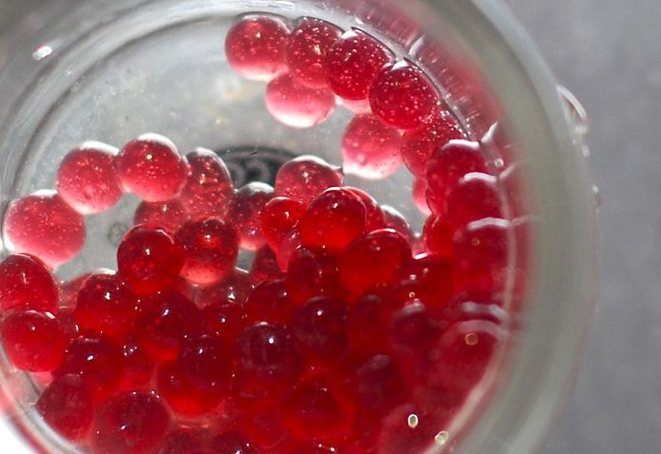 A great technique to add a little flair to plated dishes and cocktails, you only need a few ingredients to create your own customized "caviar": Whatever flavorful liquid you'd like to spherify (mango puree, olive oil, green tea...the possibilities really are endless), plus calcium chloride, sodium alginate, and water. Whir the sodium alginate into your base liquid at high speed with an immersion blender, and mix the calcium chloride with the water until dissolved. Then dispense the flavored liquid into the calcium chloride bath, leave it in for one minute, and transfer the newly formed caviar pearls into a cold water bath. Strain them out of the water and they're all done.
Watch our demonstration video and check out these tips for more information on how to make caviar spheres. Click on "Read More" below...
1) Make sure the base liquid is not too acidic, as basic spherification won't occur if the pH is less than 3.6. To reduce acidity, simply add some sodium citrate, but not too much otherwise the end result will taste too salty.
2) Using the tools like those in the CuisineTech Essential Tool Kit allows for the quick creation of large quantities of caviar drops, with great precision and little effort. You can also use a regular plastic syringe for small caviar, or a spoon for larger spheres. When using a syringe, be sure to use constant, even pressure so your spheres turn out uniform.
3) Drop the liquid into the calcium chloride bath from the correct distance. If you drop them from too high up, the higher impact into the water will cause them to flatten out. And if you drop them too low, they won't gather enough speed to form nice spheres.
4) Don't leave the pearls in the calcium chloride bath too long, or they'll become firm and lack the characteristic pop and liquid burst that makes them so much fun to eat.
5) Pressed for time? Prepared caviar spheres are available in flavors like truffle, pink grapefruit, soy sauce, passion fruit, and black currant.