A familiar ingredient to the many home cooks who use it to set their jams and jellies, pectin is a natural polysaccharide found in numerous terrestrial plants, and in particularly high concentration within the cell walls of apples.
All pectin is not created equal, as the structure, amount, and chemical composition differs among various plants, within the same plant over time, and in the diverse parts of the plant itself. Hence there are several types of pectin available for culinary preparations as a gelling agent, thickener, and stabilizer.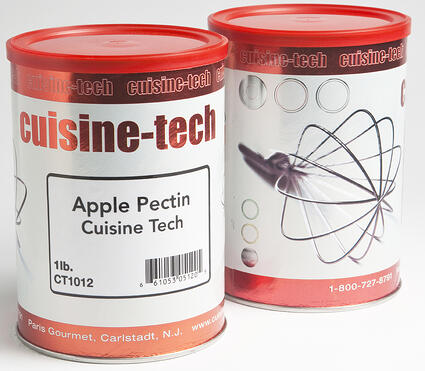 See full post for video
First isolated and reported by Henri Braconnot in 1825, the culinary action of pectin as a gelling agent was known long beforehand. To get good quality, well-set jams made from low-pectin fruits such as blueberries or apricots, cooks would mix some pectin-rich fruits or their extracts into the recipe. With the onset of industrialization, makers of fruit preserves turned to apple juice producers to get dried apple pomace that was cooked down to extract pectin, and eventually during the 1920s and 1930s factories were built for the sole purpose of extracting pectin in regions that produced apple juice in both Europe and the USA.
Yellow Apple Pectin is a high methylester type of apple pectin that has been standardized with dextrose and is typically used as a gelifier for pate de fruit and glazes that results in a slowly set, spreadable gel texture. Combine Yellow Apple Pectin with sugar prior before it is added to the other ingredients, as sugar increases pectin's ability to gel and affect texture and consistency. It also requires the presence of an acid, such as citric acid, to set properly.
To create classic French pate de fruit candies, simply bring the fruit puree of your choice to a boil, then whisk in a Yellow Apple Pectin/sugar mixture followed by any remaining sugar(s) necessary for your recipe. Heat the mixture to 225 degrees Fahrenheit, then remove from heat and add an acidic ingredient (powdered citric acid works well). Dispense the mixture into molds or pour into a sheet tray with sides to set, then roll the molded or cut pieces of set pate de fruit in crystallized or granulated sugar.