Superior pork specialties made from the meat of free ranging, acorn fed Iberico pigs.
The producer, Dehesa Cordobesa, in El Valle de Los Padroches in Córdoba has 400,000 hectares of Holm oak forest. These oak trees produce acorns considered to be the sweetest in Spain. It is here that they allow their 100% purebred Ibérico pigs to roam freely. During autumn and winter, the pigs feed on acorns, which contributes to the meat's juicy flavor and marbled appearance. The meat is dried and cured for 90 days to develop its unparalleled flavor.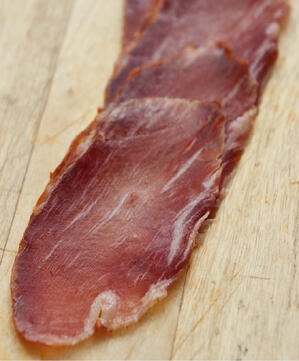 The leanest of the cuts, Lomo is the loin of the pig which is cured 90 days and produced with paprika, as is customary in Spain. It is pink with some marbling of fat and a layer of fat around the edge. The only purebred loin in the U.S. market. Slice thinly.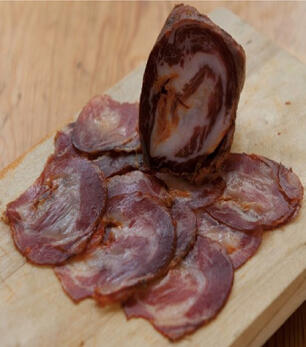 The cut of the pig with the most fat, Cabecero is the top loin of the Ibérico pig cured 90 days and produced with paprika. It is dark pink with more visible fat mixed in and very tender. It is the only cut of this nature here in the U.S. and not found often in Spain. Slice thinly.
Item # Description Unit Size / Case
ME1033 Lomo Iberico Bellota Dehesa Cordobesa 2.65 lb / 6 per Case
ME1032 Cabecero Iberico Bellota Dehesa 1.54 lb / 6 per Case