Le Pommier Camembert and Brie du Pommier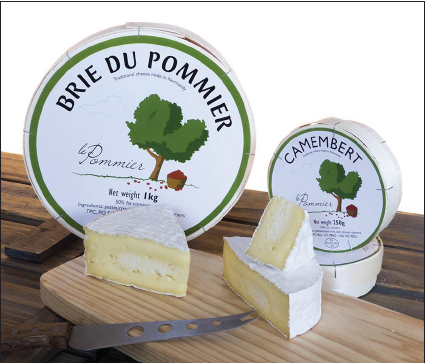 Firmly rooted in the Norman cheesemaking tradition, Le Pommier Camembert and Brie du Pommier from Normandy are amongst the most authentic-tasting cheeses available in the USA. The milk for these cheeses is sourced from herds of the classic Normande breed in the heart of Normandy. Famous for their milk quality, this traditional breed produces rich, grassy milk that is high in the proteins needed for cheesemaking. This milk is gently pasteurized and a complex blend of cultures is added before the cheesemaking begins. A lactic set and traditional methods are used to make a cheese that will develop and ripen with proper aging.
Le Pommier Camembert exemplifies the classic Camembert characteristics of rich, full flavor and earthy mushroom notes. Brie du Pommier is made with the same cultures and techniques, but its larger form ripens differently than the smaller Camembert. Emphasizing grassy, lactic flavors, this full-flavored Brie develops complex aromas and a smooth texture as it matures.