These products are an innovative new product line from Wild Hibiscus Flower Company using the color pigment and flavor featuring three delicious flowers:
The berry-like Hibiscus Flowers - Red Sensual Bulgarian Rose+Hibiscus Flowers - Pink Mystical and alluring Butterfly Pea Flower - Blue with natural color change to Purple
They have done the hard work for you by sourcing, gathering and extracting the flowers and making the products ready to use in a handy glass dropper bottle (100ml / 3.4 fl Oz Net).
In fact, b'Lure is the world's first liquid butterfly pea flower extract produced and ready to use for the food and cocktail industry.
SERVING SUGGESTIONS
Flower Extracts can be used like a bitters - just a few drops per cocktail for vibrant color and flavor.
Just add 2-3 dashes per drink. You can create 30+ cocktails per bottle.
Another great idea is to jazz up you bottle or glass of water for a new taste and color experience.
In Food: Frosting, Icing, Cakes, Deserts, Macaroons, etc
In Beverages: Get creative with coloring and ice, molecular mixology, foams, liquor infusions, jelly layers, shots, 2-part drink presentations, plate paint, atomizer sprays, etc

OUR FLOWER EXTRACTS ARE:
0% Alcohol
Heat Stable in Cooking
Economical
High Concentrate
2 year shelf life (Keep refrigerated once opened)
Handmade in Small Batches
Premium Quality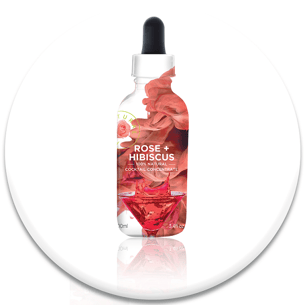 A high concentration extract from the most premium Bulgarian Rose and Hibiscus flowers. This product is extremely luxurious with a divine aroma of rose essential oils, rounded out by the mixed berry-type taste of hibiscus so doesn't overpower. Use like a bitters - just a few drops per cocktail for vibrant pink color. Also use for cooking applications such as macarons and cake decoration. Goes particularly well with mezcal for a perfect pairing or to a glass of Champagne. Works very well for frosting, icing, cakes and desserts.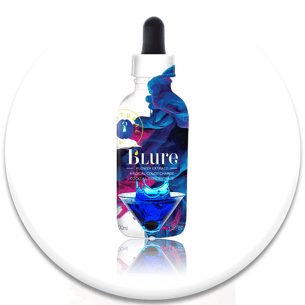 This product is the world's first produced commercial Butterfly Pea Flower Cocktail Concentrate - designed for the creatives in the cocktail and food industry and food and cocktail lovers. If other ingredients are added that have a higher acidity (like limes or lemons), the color then changes from blue to purples and pinks depending on surrounding light & the acidity (pH) of the drink or food it is mixed with. You can use b'Lure straight out of the dropper bottle which is naturally bright blue. An edible natural blue food is quite rare in nature. That's why b'Lure is so special.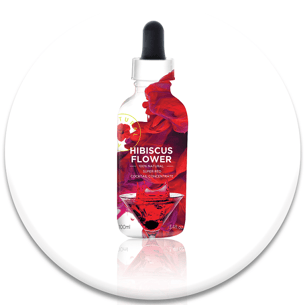 A high concentration extract from hibiscus flowers. Its a natural red that can be used for food and beverages and has an intense mixed berry-type taste. Made from fresh cold-pressed hibiscus flowers, dried hibiscus and cane sugar. That's it. Use like a bitters - just a few drops per cocktail for vibrant red color in beverages. Great as an all-natural substitute for flavors like rhubarb, raspberry, cherry, pomegranate or grenadine. Can substitute hibiscus flower extract where hibiscus tea is called for in craft cocktails and other beverages. Add a few dashes in your cooking and cake frosting. Imagine a beautiful crimson hibiscus macaron!