The rice of Calasparra is known in Spain and the world. Proof of it's quality is the concession of the Denomination of Calasparra Origin, being the only rice in the world that enjoys this boasted endorsement of guarantee and quality.

IT IS UNIQUE

- BY its climatology, cultivating itself in a very mountainous and sunny area.
- BY the coldness and purity of its waters.
- BY its system of irrigation with a constant renovation of water allowing one varied fauna within the rice fields.
- BY alternation of the rice with other cultures, and the periodic soil rest, favoring the regeneration of the ground and reading the elements necessary to maintain a quality supreme.
- BY the maintenance of traditional seeds that are solely used in Calasparra.
- BY its slow maturation, with a cycle that is extended greater than 30% compared to other rice.
- BY its natural dehydration, that distinguishes the flavor and hardness and great firm but creamy texture.
Pimenton "El Angel" Smoked Spanish Paprika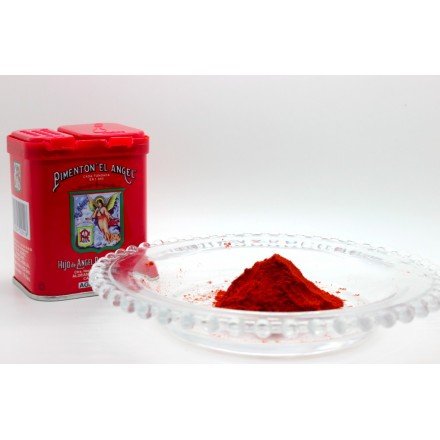 A popular ingredient in paella and many Mediterranean recipes,
many from Spain swear by this paprika, as its flavor
is essential for authentic Spanish cooking. The peppers
are dried slowly over an oak burning fire for several
weeks. The result is a sweet, cool, smoky flavor.