The feeling of nostalgia hits when someone mentions girl scout cookies, then the next emotion is a sense of urgency to "place my order now before they run out!". Fast forward to today with ordering online and having it delivered to your door. This option is very mainstream and the norm for the majority of us.
How did going from a door to door sales in your local neighborhood expand to nationwide online sales and shipping?
Girl Scouts know how to adapt and get creative with their challenges in order to accomplish their goals and find solutions. It is the mentality and skill set that is developed and trained in order to earn a badge. Their website states that "Girl Scouts unleashes the G.I.R.L. (Go-getter, Innovator, Risk-taker, Leader)™ in every girl, preparing her for a lifetime of leadership—from taking a night-time hike under the stars to accepting a mission on the International Space Station; from lobbying the city council with her troop to holding a seat in Congress; from running her own cookie business today to tackling cybersecurity tomorrow.
Our Girl Scout Leadership Experience is a one-of-a-kind leadership development program for girls, with proven results. It is based on time-tested methods and research-backed programming that help girls take the lead—in their own lives and in the world.
Research shows that girls learn best in an all-girl, girl-led, and girl-friendly environment. Girl Scouts is a place where she'll practice different skills, explore her potential, take on leadership positions—and even feel allowed to fail, dust herself off, get up, and try again."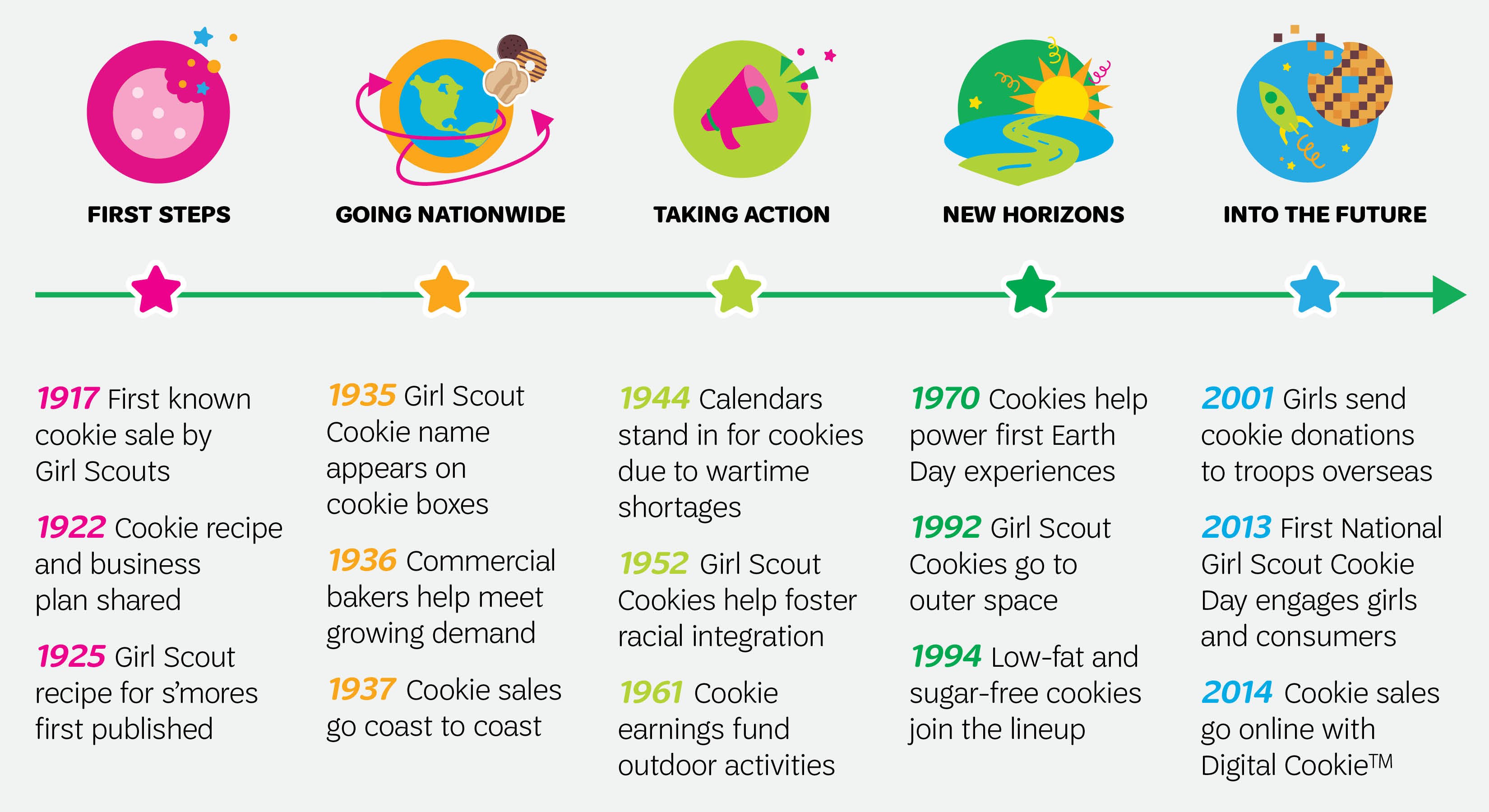 GirlScoutCookies.Org
In over a hundred years of feeding us, the Girl Scouts have added new flavors including gluten free options. Girl Scouts now have two facilities that produce their cookies. ABC Bakers produces Caramel DeLites, Peanut Butter Patties, Peanut Butter Sandwich, Lemonades, and Shortbread Cookies. Little Brownie Bakers produces Samoas, Tagalongs, Do-Si-Dos, Savannah Smiles, and Trefoils. 450 million Thin Mint cookies get made in one day, so its obvious why they have more than one facility to make these cookies! To peak your knowledge, do some baking, and have a good laugh... check out the links below that will satisfy your Girl Scout cookie cravings. Enjoy!
LINKS:
Purchase/ Donate Girl Scout Cookies
The official website for Girl Scouts, where you can learn more about their programs, history and of course purchase cookies! You can also make a donations with multiple options as well.
Troop Beverly Hills Movie- It's Cookie Time!
A 1989 American comedy film about a self centered materialistic Beverly Hills wife, finds out her husband is cheating on her and decides to get divorced. In order to distract herself she invests her time volunteering as her daughters troop leader. After realizing her lifestyle and typical tactics do not meet the "Wilderness Girls" standards, Shelly Long who portrays the mother/ troop leader, learns to become selfless and lead her daughter and the rest of the troop members to valuable lessons and hilarious moments!
How Girl Scout Cookies are Made - Insider/ Little Brownie Bakers
Insider literally takes you inside Little Brownie Bakers facility and show you how the girl scout cookies are made with fun facts. Be prepared to drool!
Pastry Chef Attempts to Make Gourmet Girl Scout Cookies - Gourmet Makes- Bon Appetit
Join Claire Saffitz in the Bon Appétit Test Kitchen as she attempts to make gourmet Thin Mints, Samoas and Tagalongs. That's right, Claire's making Girl Scout Cookies. Did you know the Girl Scouts started selling cookies back in 1917? But it wasn't until 1951 that the Thin Mint, the cookie most synonymous with the Girl Scouts, was introduced and swept the country like a tidal wave. And now here we are, in the Test Kitchen, watching Claire make them herself. What a time to be alive.