This video for Chinese Mantou is required viewing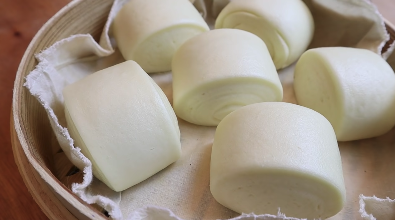 Food professional or not, I can guarantee that anyone reading this blog is more than a little food obsessed. So it goes without saying that we all love learning about food - whether it's a new technique, or maybe a food we've never eaten (or even heard of.) And when learning is relaxing to boot, then it checks our favorite boxes.
We came across this video in an article by Martha Cheng for Eater entitled "A World Beyond Sourdough". Like many people, we've been baking A LOT of bread, most of it sourdough. But every so often it's nice to expand ones horizons. Mantou is the perfect way to do that.
Manou is a very basic Chinese steamed bun. They gained widespread popularity in the US in the early 2000s when restauranteur and chef David Chang put Pork Buns on his menu at Momofuku Noodle Bar. They're thought to have originated in Northern China in 300-200 BCE, and were quickly adopted throughout Asia. Sometimes they're filled, sometimes they're unfilled. Martha Cheng describes them this way: "In northern China, wheat (not rice) is the most popular traditional starch, and mantou — steamed, unfilled and light and fluffy — is the region's equivalent of sliced white bread. It's an ideal accompaniment for any meal or even dessert, when it's deep fried and dunked in sweetened condensed milk."
Without further ado, here's the video (which Cheng praises for it's ASMR-like qualities - she's not wrong!)
"Mantou," from Mun's Flavor
Enjoy!