If you are a fan of the TV show Friends, then you would understand the character Joey Tribbiani and his love for not only food, but for sandwiches!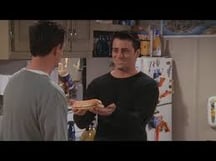 The sandwich is one of the most simple yet substantial items to make, eat, buy, and sell! The combination of ingredients is endless and is the least labor intensive and cheapest way to get more bang for your buck to satisfy anyone's stomach! Have you ever eaten half a sandwich and saved the other half for later and when later comes around it tastes even better? Listed below are some great ingredients that we carry to make multiple delicious sandwiches. From our sliced madrange ham, to cornichons, to mustards, I am drooling and craving a sandwich as we speak!
Our Sandwich Ingredients Links:
Bon Patissier / Breads, Croissants and more!
Madison de Choix/ Cornichons, Oils, Red Roasted Peppers and more!
Madrange Ham/ An Authentic French Recipe Ham!
SV Cuisine Sous Vide/ From Chicken, Beef, Pork, and more!
Beurremont/ Sliced Cheese and Delicious Butter!
Want more ideas for great grab-and-go sandwiches? Download out Madrange Sandwich brochure below.