I asked Jean Francois Devineau, chef technician for Ravifruit, for his best suggestions to create great ice cream cakes. In the U.S., ice cream cakes have tremendous popularity in the mass market. We have all enjoyed Fudgie the Whale or Cookie Puss from Carvel's at a child's birthday party on a hot day. And the combination of ice cream, cake, and textural elements is very enjoyable. But with each forkful, you wish the quality of the elements was better.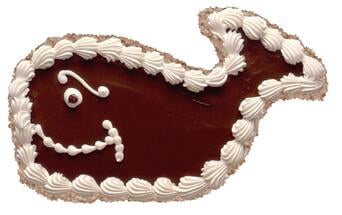 Beloved, but he could be so much better!
In France, frozen cakes are very popular, and run the full spectrum of quality, from low cost cakes at they hypermarket to elegant luxuries at the top patisseries and glaceries. The big advantage for the chef is their stability. When properly made and conserved, frozen cakes last for months with no loss of quality. So they can be made during periods of slow business, and are always ready to sell and to please your guests.
Here's what Jean Francois shared..
Organize your recipes
JF recommends that chefs produce the same ice cream cake in several different sizes. This way, you can accomodate guest requests for 2, 4, 6, or 8 people. To produce these different sizes efficiently, you need to scale the recipe for each size mold. It takes some work the first time, but after that, you'll always produce the proper amount of mis en place that your production requires.
Molds
Stainless steel domes of various sizes are best. They give the chef a lot of flexibility. Stainless steel conducts temperature well, and will release the frozen product easily. And nested domes of different sizes create a nice profile when the cake is cut.
Biscuit
Biscuit should be prepared well in advance. JF prefers crispy meringues and sable. Add 5% almond flour to the meringue to reduce the sweetness. Other options exist, just make sure that they are not too hard when frozen.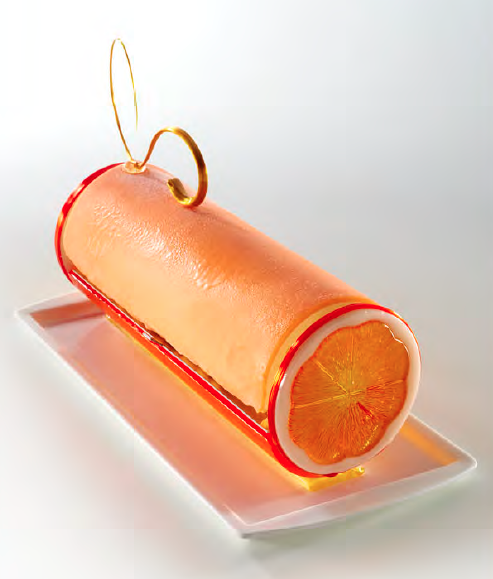 Team Japan, Coupe du Monde de la Patisserie 2013
Frozen Components
The most interesting cakes will have a variety of frozen fillings: ice cream, sorbet, parfait, coulis. Crunchy textural elements are best included in a parfait layer.
Proper Storage
The best results occur when freezing happens as quickly as possible. Have your components and molds well chilled or frozen prior to assembly. Blast freezers at -30 degrees Celsius are ideal. Protect the cakes from exposure to air to prevent freezer burn.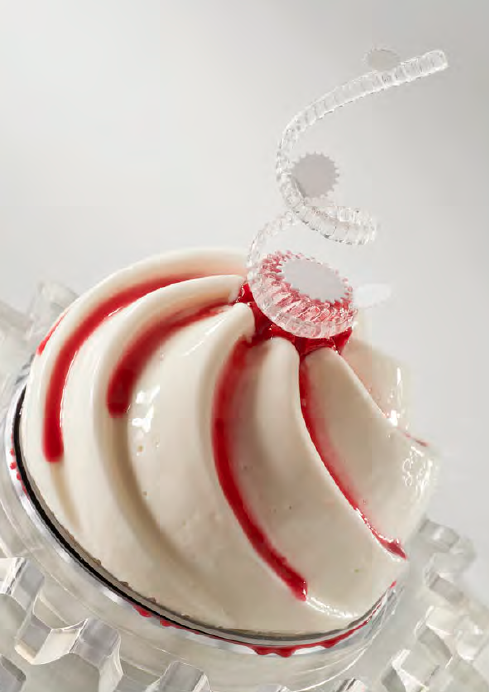 Team France, Coupe du Monde de la Patisserie 2013


Unmolding
Cold water works best for stainless steel domes. Use propane torches for ring molds. Use as little heat as possible, and turn out carefully by hand.
Glazing
Glazes are highly recommended. They protect the cake and give a lustrous, gleaming shine. Make sure the glaze is thin! The cakes should be frozen when glazing, but should be at -18 degrees Celsius, not directly from a blast freezer (they'll be too cold).
The glaze should be at 20 degrees Celsius. TIP: To glaze a dome shaped cake perfectly, place a small ring mold on top of the cake (cake on rack over sheet pan). Fill the ring with glaze, then remove the ring. The glaze will flow smoothly and evenly over the cake.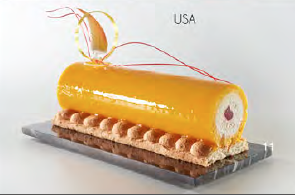 Team USA, Coupe du Monde de la Patisserie 2013
Decoration
Should be light and simple. Chocolate decorations, caramelized nuts, and candied fruits are a few favorites.
Serving
Proper serving temperature is -9 to -13 degrees Celsius. A frozen cake removed from a freezer at -18 degrees Celcius and placed in a refrigerator will be ready to serve in one hour.
Frozen cakes should be plated without additional garnish.
His Favorite
The summertime classic: a vacherin featuring strawberry and raspberry with meringue.