"I love the products, and I think it's so cool, all the new things chefs are doing, but I need somebody to show me how to do it."

Since the inception of the Cuisine-Tech line over five years ago, chefs have asked us to help them learn how to execute the great new techniques that their fellow culinarians have developed all over the world. The product selection grew, new products were added, and we have responded to your requests by creating videos that can be accessed anywhere, anytime.

The format of the Cuisine-Tech video series is simple and straightforward: one video, one ingredient, one technique. Give us two minutes, and you'll learn something new. These HD videos were created by Shirley Hall, marketing director of Paris Gourmet, and were produced by Ashton Evetts. They feature chef Vincent Jaoura who shares techniques and recipes that you'll enjoy.

Our goal is to inspire and support the creativity of the chefs that we serve every day. The Cuisine-Tech line is chef driven, guided by your requests and suggestions, and built with professional chefs in mind. We have cultivated this line to satisfy the demands of chefs, and now we offer these video demonstrations that show the tricks and techniques that make modern cuisine easy to execute successfuly.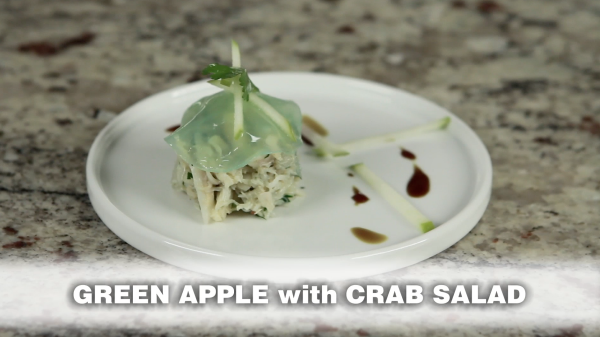 Agar-agar is featured in the first Cuisine-Tech video release. Agar-agar is a natural vegetable gelatin counterpart. White and semi-translucent, it is sold in packages as washed and dried strips or in powdered form. It can be used to make jellies, puddings, and custards. For making jelly, it is boiled in water until the solids dissolve. Sweetener, flavouring, colouring, fruit or vegetables are then added and the liquid is poured into molds to be served as desserts and vegetable aspics, or incorporated with other desserts, such as a jelly layer in a cake.

Agar-agar is approximately 80% fiber, so it can serve as an intestinal regulator. Its bulk quality is behind one of the latest fad diets in Asia, the kanten (the Japanese word for agar-agar) diet. Once ingested, kanten triples in size and absorbs water. This results in the consumers feeling more full. This diet has recently received some press coverage in the United States as well. The diet has shown promise in obesity studies.
One use of agar in Japanese cuisine is anmitsu, a dessert made of small cubes of agar jelly and served in a bowl with various fruits or other ingredients. It is also the main ingredient in mizuyokan, another popular Japanese food.
In Philippine cuisine, it is used to make the jelly bars in the various gulaman refreshments or desserts such as sago gulaman, buko pandan, agar flan, halo-halo, and the black and red gulaman used in various fruit salads.
In Vietnamese cuisine, jellies made of flavored layers of agar agar, called th?ch, are a popular dessert, and are often made in ornate molds for special occasions. In Indian cuisine, agar agar is known as "China grass" and is used for making desserts. In Burmese cuisine, a sweet jelly known as kyauk kyaw is made from agar.
In Russia, it is used in addition or as a replacement to pectin in jams and marmalades, as a substitute to gelatin for its superior gelling properties, and as a strengthening ingredient in souffles and custards. Another use of agar-agar is in ptich'ye moloko (bird's milk), a rich gellied custard (or soft meringue) used as a cake filling or chocolate-glazed as individual sweets. Agar-agar may also be used as the gelling agent in gel clarification, a culinary technique used to clarify stocks, sauces, and other liquids.