Distinguished judges slice up the finest leavened loaves on two continents.
The Pannetone World Cup (Coppa Del Mondo Del Pannetone) held it's Americas Selection event at Bruno Bakery on Staten Island yesterday. Entries were solicited from Canada, Mexico, Central and South America, and the United States. A distinguished panel of judges were appointed to sample the entries, with scoring and guidelines provided by the organizing committee of the Società Mastri Panettieri Pasticcieri Confettieri del Canton Ticino (SMPPC).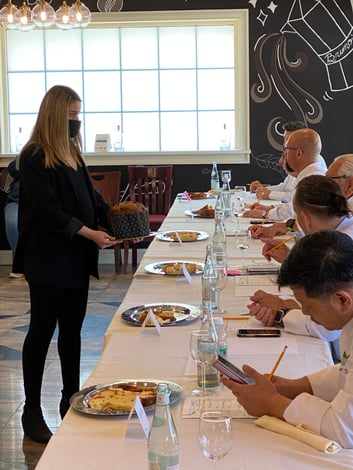 Joseph Settepani was selected to represent the Americas at the international final to be contested in Lugano, Switzerland on November 5-7, 2021.
We salute the finalists and judges who labored diligently to rise above the challenges of this time to compete in this great international event.
The judges
Ciril Hitz- chef instructor- Johnson and Wales University

Charlie Tola- chef/owner- Lulu's Bakery NYC

Nick Stork- president- New York State Bakers Association

Frank Vollkommer- Certified Master Pastry Chef

Peter Yuen- International Baking and Pastry Consultant

Mitch Stamm- Executive director- Bread Bakers Guild of America

Calogero Romano- chef technician- Paris Gourmet
The finalists
Antony Daniele and Eric Goeury- Passion Pannetone

Joseph Settepani- Bruno Bakery

Jaime Martinez- Cossettas

Gart Rulli- Emporio Rulli

Jessica Nascimiento Batista- Padeira Jessica

Fernando Oliviera- Padeiroartesao

Rogerio Shiumura- Bakery Levain Escola de Paneficicacao e Confeitaria

Alexandre Marins Da Costa- Ofner

Ermenegildo Cimmino- Patisserie Bel Air

Ivano Bassi- Bouducco